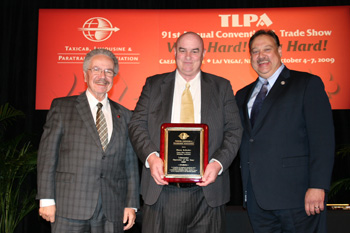 New Orleans Company to Accept "Limousine Operator of the Year" Award by Taxicab, Limousine & Paratransit Association
(ROCKVILLE, Maryland) – The Taxicab, Limousine & Paratransit Association (TLPA) is pleased to announce it has named Dean Schuler, CEO of the limousine company Carey New Orleans of Louisiana, as its 2009 Limousine Operator of the Year.
In a highly competitive field of applicants for the award this year, Schuler and Carey New Orleans showed an unwavering commitment to quality, service and community involvement.
"We were deeply impressed by the systems used at Carey New Orleans to ensure that drivers are properly trained and regularly assessed to ensure the highest level of service," said Alfred LaGasse, Chief Executive Officer of the TLPA. "That was immensely clear as well from the numerous letters of thanks and support from some high-level clients as part of the award application."
Schuler drove his first limousine in 1976, earning money part-time while attending graduate school for a degree in psychology. But it wasn't until almost two decades later that he started his company, Signature Limousine, in 1994. He was granted the Louisiana license for Carey, a national company, in 1996.
Now comprised of 21 vehicles, Carey New Orleans prides itself on consistent quality and employee retention. Schuler makes sure every new driver goes through a defensive driving course and attends classroom training, as well as receiving a half-day tour of the city with a local guide. To further ensure quality, Schuler uses "mystery riders" to regularly evaluate service.
"Service is like a personal signature: Get that right, and you can roll with anything else," Schuler says. "You have to love working with people and be willing to knock yourself out to provide great customer service."
Schuler will accept the award on Oct. 5 in front of nearly 1,000 industry peers at the TLPA's annual convention, held this year at Caesar's Palace in Las Vegas. This year marks the 91st Annual Convention & Trade Show for the TLPA, and is the world's largest gathering of for-hire fleet executives.
Established in 1917, the Taxicab, Limousine & Paratransit Association (TLPA) is a non-profit trade association of and for the private passenger transportation industry. Its extensive membership spans the globe to include 1,000 taxicab companies, executive sedan and limousine services, airport shuttle fleets, non-emergency medical transportation companies, and paratransit services. For more information, please visit www.tlpa.org.