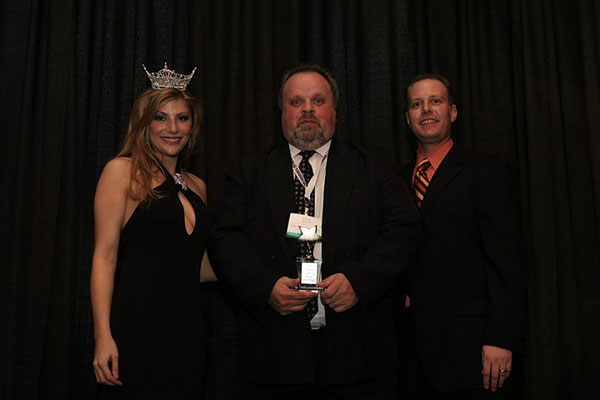 Paul McNish, supervisor in the Carey New Orleans Meetings and Events division and chauffeur-extraordinaire has won "Chauffeur of the Year 2006″ honors from the Taxicab, Limousine & Paratransit Association (TLPA) and from Limousine Digest magazine.
A ten year veteran of Carey New Orleans and a full-time employee, Paul has received Certified Platinum Level Chauffer qualification through the National Transportation Certification Program. A profile on McNish appeared in the Fall 2006 edition of Transportation Leader, the TLPA trade magazine. That profile quoted the nomination submitted by Carey New Orleans president Dean Schuler, who wrote, "Paul McNish turns every client into a repeat client. He leads by example and is an inspiration to the entire chauffeur corps of Carey New Orleans."
The Limousine Digest honors were announced at the Limo Digest Show in Atlantic City earlier this month. As Susan Rose, editor of Limousine Digest explained, "Each year we receive dozens of nominations for the Chauffeur of the Year award, one of our most popular categories. We glean the best candidate from the extensive list — not an easy feat."
"Customers associate the reputation of a company with the service they receive from a chauffeur," Rose continued. "Chauffeurs are the most visible frontline of the limousine industry, and a service is only as great as the chauffeurs who make their customers feel special. A truly professional chauffeur will provide excellent service regardless of the situation. This year, we honored Paul McNish of Carey New Orleans as our Chauffeur of the Year, who epitomizes these qualities and then some."
Devin J. Murphy, President & CEO of Carey International, Inc. congratulated the honoree on his dual awards, saying, "Paul McNish exemplifies Carey's best in the business chauffeurs, and it is our chauffeurs that continue to differentiate Carey's service for over for 85 years. He is an example not only of the highest technical professional standards we maintain for our clients but of the service ethic that defines Carey quality. We named Paul McNish our Carey International Chauffer of the Year in 1999. We could not be more proud, or more proud of Paul, that two distinguished authorities in our industry have made the same choice."
Carey International is the world's premier provider of limousine services and luxury ground transportation with locations in over 550 cities and 65 countries. Since 1921, the Carey brand has represented uncompromising reliability and impeccable professionalism, safety, security and quality. Carey provides a full range of chauffeured services, including luxury airport limousine services as well as transportation for road shows, special events, and tours. Certified professional chauffeurs, a state-of-the-art fleet of luxury vehicles and an industry-leading quality assurance program, set the standard for luxury limousine and executive car services. Carey also has the only Meeting and Events division in the chauffeured transportation industry, providing end-to-end event transportation and meeting management services including planning, logistics, on-site coordination and centralized billing. For more information, please visit www.carey.com.