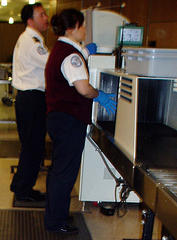 Expert Tips for Business Travel
Personal security is one of the most important aspects of business travel and the ironic aspect is that so few business professionals plan for it. While you are away on company travel, you need to make sure that your home and identity are safe while you are away.
We've compiled a list of expert security tips below:
1. Make Sure your Home is Taken Care of
Whether or not you have family who live at your house or if you are a single traveler, it is extremely important that your home maintains the look of an occupied household. This means not letting mail accumulate, having lights turned on, and ideally having someone stop by periodically.
The statistics show that the most common time for a burglary to happen is between the hours of 6 am and 6 pm. That means that it's more important to have your house appear to be busy during the day than it is overnight.
Personal alarm systems are a great way to thwart crime. Buying an alarm system is only the first step. The second is making sure that you utilize the signs/stickers your alarm company provides and most importantly—you must utilize the alarm system.
2. Protect Your Digital Identity
In an article by Shivani Vora at Forbes, they highlight one of the sneakiest ways that hackers can steal your identity, which is by creating dummy wireless hotspots. Once you log in to one, they can access your computer and steal your personal information.
You can keep your digital identity safe is by making sure you only do business with companies you know and trust. The digital landscape changes literally daily. By the time this article has been written and posted there will be several new ways that hackers are trying to steal identities. Staying on the cutting edge is difficult, but doing some research before every trip is a good way to stay in touch with modern security.
3. Keep Your Valuables Safe
That lockbox in your hotel room is for more than midnight snacks. Keeping your valuables in a safe place is an absolute necessity when it comes to business travel. No matter how experienced of a traveler you are, out of town visitors are targeted because of their inexperience with the city and the amount of valuables that travelers carry.
A great way to boost your personal security is to have a personal chauffeur when you're visiting a city. Professional drivers are more trustworthy and reliable than public transportation.
4. Plan for Airport Security
By far the most complicated part of any business transportation is air travel. Airport security is more intense now than ever before. Make sure that you unpack your entire carry-on to check for any restricted items the day before your trip. If you accidentally leave a restricted item in your carry-on and try to get through airport security with it, that can drastically impact your time at the airport.
Another important component of getting through airport security is to dress for the airport security line. Wearing shoes that are easily slipped on and off, carrying a bag with a laptop case that can be easily removed, and searching your clothing for metallic items before traveling are great ways to cut down on travel time and increase your personal security. Also, here's an article by USA Today on airport security trips.
It's also extremely important to lock your luggage when possible. If you are checking bags, it's important to think about how many different people will handle your luggage by the time that it gets back to you.
What Business Travel Security Trips do you use?