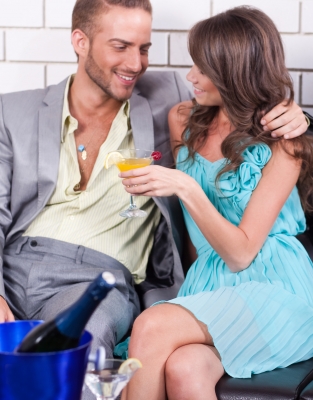 Don't Forget the Limousine During Your French Quarter Date Night
If you're planning a trip to the one and only New Orleans within the near future, you might be wondering about some of the best destinations for your nights out. Of course, Bourbon Street and all its glitz and glamour is a must during your time in the Big Easy, but for the ultimate date night, we suggest taking advantage of some of the magic that can be found in the French Quarter.
It's no secret that combating traffic and trying to find parking can kill the mood of a romantic date night. That's why we always advise the reservation of a chauffeured car for your evening in the French Quarter. Your chauffeur will handle all of the navigation and parking, so all you'll have to worry about is enjoying yourself.
In case you don't know where to start on your date night in New Orleans, take a look at our list of date night ideas and restaurants for your romantic evening in the French Quarter.
The Most Romantic Restaurants in the French Quarter
It's an age-old theme that still applies today: a central part of a romantic night out is a great dinner at an atmospheric restaurant. In the French Quarter, you have several options to choose from.
Consider Galvatoire's, which has been serving traditional French dishes with fresh and innovative twists since 1905. Still housed in the same historic building and providing patrons with the same charming, historic elegance as ever, leaving the dinner portion of your romantic night out to the chefs at Galvatoire's is one of the best decisions you can make while visiting the Big Easy.
Another of our favorite restaurants in the French Quarter would have to be Antoine's, your perfect destination for world-renowned French-Creole food in a classy and intimate atmosphere. With 14 dining rooms, all of which possess a unique historic charm, you can choose your perfect dining environment. And with a menu as expansive as Antoine's, your appetite is sure to satisfied by the time you've finished up.
Date Night Activities in the French Quarter
For after-dinner drinks, consider stopping in at the dimly-lit, eternally romantic Napoleon House. The Napoleon House has a long list of cocktails and historic atmosphere like you wouldn't believe; the cocktail bar and café is housed in a property that dates all the way back 1797. Classical music, great service and an air of romance makes the Napoleon a great place to imbibe after a wonderful dinner in the French Quarter.
If a carriage ride around Jackson Square in the French Quarter sounds like your kind of romantic night out, consider stopping off at the 700 Block of Decatur Street next time you're in town. Carriage rides run from 8:30 pm until midnight so you have plenty of time to experience the architectural and historical wonder that is the French Quarter, up close and personal.
With a chauffeured car, reservations at the perfect restaurant and the right after-dinner activities lined up, your French Quarter experience can be as close to perfection as possible.
Image Credit: freedigitalphotos.net/photostock