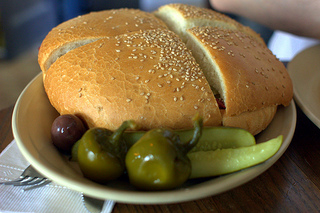 Your New Orleans Guide to Delicious Muffalettas
If you have visited New Orleans and haven't tried their world-famous culinary invention, the muffaletta, then you're certainly missing out. The delicious dish, which has its origins in the French Quarter area of New Orleans, consists of a delectable Sicilian sesame bread and any number of Italian meats and provolone cheese. Those who have enjoyed one aren't usually quick to forget the experience, and those who are planning on visiting New Orleans are usually on the lookout for a great muffaletta so they can say they experienced a true New Orleans original.
We've compiled a list of the best muffaletta stops in the Big Easy, so you can get a taste of the French Quarter the next time you stop by.
You can't mention the muffaletta in New Orleans without mentioning the Napoleon House, which also houses one of the best-known bars in the area, as well. The menu is a regular round-up of some of New Orleans' most famous dishes, including a huge variety of salads, Poor Boy sandwiches, and of course, their specialty muffaletta, which features ham, salami and pastrami and two types of Italian cheese and comes with their house made Italian olive salad. For a mere $14.50, you can get a whole muffaletta, which can feed two people. Talk about experiencing the Big Easy for steal.
500 Chartres Street, New Orleans, LA
This sandwich shop is one of the best-rated in the city, and it's easy to see why. An impressive combination of sandwich shop, butcher shop and wine counter, there's a ton to choose from and all for a reasonable price. Their muffaletta, which comes with house meats and an Italian olive salad on the side, goes for around $12, which is a steal considering you could probably make it count for two meals.
930 Tchoupitoulas Street, New Orleans, LA
Many visitors to New Orleans agree that Central Grocery is simply one of those places in NOLA that visitors cannot miss. Located in the heart of the French Quarter, where the muffaletta originated, Central Grocery is affordable and delicious. The kind and welcoming duo behind the counter offer an impressive deli spread and produce a muffaletta that is absolutely one-of-a-kind.
923 Decatur Street, New Orleans, LA
The name says it all; this shop specializes in muffalettas and produces one incredibly delicious "Star of Show," their in-house made muffaletta with an Italian olive salad and dressing. They even offer a muffaletta platter than consists of the giant sandwich and a side, for those of you who are absolutely starving.
3900 General De Gaulle Drive, Algiers, LA
Making the most of your time in New Orleans wouldn't be complete without booking a chauffeured car to get you around town. Just hop in the back seat, tell your chauffeur you want a traditional New Orleans muffaletta, and he'll likely whisk you away to a destination that offers a great muffuletta and even better atmosphere.
photo credit: goodiesfirst via photopin cc