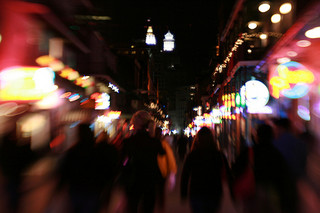 Getting the Best of Bourbon Street in New Orleans
If you're planning a trip to New Orleans soon, there are probably a few staple activities on your list of to-dos: seeing the French Quarter, visiting some of the famous landmarks, and probably going to Bourbon Street to see exactly what all the fuss is about. If you like a good time and want to mingle with locals and other tourists alike, Bourbon Street is probably the perfect place for you during your trip to the Big Easy.
The first step to having a great time on Bourbon is to make sure you have reliable transportation for the duration of your night. Not only will it be safer for both you and your company, but it'll also be much easier. You won't have to worry about parking and navigating the often crazy streets, and a ride home is only a short phone call away the second you get too tired or think you've had your fill. For the rest of your night, finding great things to do is certainly not hard. Here's a list of our favorite places to stop while you're on Bourbon Street.
You can't very well say you've been to Bourbon Street without at least mentioning a knowledge of this century-old staple, a restaurant which has entertained guests from all over the world for over 100 years. The restaurant specializes in traditional French recipes with a sophisticated twist, and is the perfect center piece for a dinner date on Bourbon Street.
Considered by many to be the "World's Best Karaoke Bar," Cat's Meow on Bourbon Street is the place to go if you want a more fun-filled and high-energy experience in the Big Easy. Whether you dream of taking the stage yourself or simply want to sit back with a beer and watch the craziness unfold as the night wears on, the Cat's Meow will definitely provide you with an experience that can only be had on Bourbon Street.
If you find yourself looking for the perfect bar experience on Bourbon Street, Lafitte's Blacksmith Shop and Pub. The building where the bar is housed is reputed to be the oldest structure housing a bar in the entire United States, and features an impressive list of cocktails, drinks and spirits so your Bourbon Street experience has no chance of disappointing.
However you experience Bourbon Street, make sure you do so safely and respectfully. Getting chauffeured car service for your night out is the first step to making it to Bourbon Street and home again safely. Don't take on the responsibility of driving after a night out; leave it to a transportation company that specializes in making every night out a great memory with no blemishes.
photo credit: quinn.anya via photopin cc