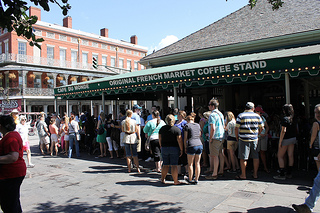 Getting a Taste of the Big Easy
Whether you are visiting New Orleans for business or pleasure, its impossible not to take in the unique culture that the Big Easy has to offer. New Orleans' food is as well know as it's Mardi Gras celebration, with one-of-a-kind flavors and creations. We have compiled some of the best restaurants in New Orleans that you absolutely must visit on your next trip.
Café du Monde
What started as one small coffee stand, has now become a New Orleans staple with locations across town. What made this restaurant famous, and still attracts customers, are the beignets, which are French-style doughnuts. The sugary treats are the one food item you definitely can't miss out on the New Orleans.
Broussard's Restaurant
819 Rue Conti
This restaurant has a long history in New Orleans, with the doors opening in 1920. Broussard's menu features creations with French and Creole influences. Inside of Broussard's is the Empire Bar which has a wide selection of premium cocktails and beverages.
Johnny's
511 St. Louis St.
Po-Boy sandwiches are another classic New Orleans food item, and Johnny's Po-Boys makes some of the best. This sandwich shop opened in 1950 and has been in the French Quarter of New Orleans ever since.
Domenica
123 Baronne St.
The restaurant's name means "Sunday" in Italian and was chosen to reflect the warm and inviting feeling of a traditional Italian Sunday dinner. Domenica offers gourmet-style pizzas as well as many traditional Italian dishes. The restaurant also runs a happy hour every day of the week.
Drago's Seafood Restaurant
2 Poydras St.
Drago's is another restaurant that has a long standing history in New Orleans, established in 1969. The restaurant features charbroiled oysters and a wide selection of other seafood dishes. Drago's also include many local favorites with a variety of po-boys.
The Bombay Club
830 Conti St.
This restaurant has an intimate setting and is located in New Orleans' French Quarter. The Bombay Club offers live musical entertainment, as well as dinner by candle light. This venue has an bar with a very extensive selection and many happy hour specials.
Crescent City Brewhouse
527 Decatur St.
The building this restaurant resides in was built in the 1700s and still stands in the French Quarter today. Crescent City Brewhouse opened its doors at the location in 1991. The restaurant has a selection of four house beers and has a Special Brew each month of the year. The venue also features live jazz music performances.