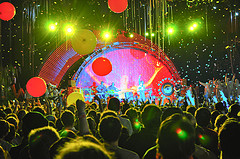 Things to do This Fall in The Big Easy
New Orleans is known for its street festivals and parades, namely the annual Mardi Gras celebration. Though Mardi Gras season has already passed, there are still many upcoming events and festivals in New Orleans to be excited about. The fall season is full of festivals that celebration traditions and local culture. Below we have compiled some of the major festivals coming to New Orleans soon, so you can mark them down on you calendar
Oktoberfest
Dates: Each Weekend in October
Already underway, Oktoberfest in New Orleans continues each weekend until the end of October. Hosted by the Deutsches Haus, the festival celebrates German beer, food, and culture. The streets of Rivertown are flooded each weekend with locals and tourists enjoying the music, beer, and food. Each weekend is full of special events, contests, and performances. This historic festival is held in locations all over the world, but New Orleans celebrates unlike any other city.
Halloween in New Orleans
Date: October 31
Halloween is arguably the second biggest annual event in New Orleans, with only Mardi Gras being bigger. The city goes all out for this holiday, with decorations and creative costumes. A Halloween night in New Orleans could range anywhere from a family-friendly night for children, haunted tours in the French Quarter, or large street party. Like Mardi Gras, locals and tourists pack the streets for Halloween along with elaborate decorations, unique costumes, and Halloween-themed spirits.
Voodoo Music Festival
Date: November 1-3
The 15th annual Voodoo Music and Arts Experience is bringing a weekend of music and arts to New Orleans' City Park. The festival features big-name artists from a variety of musical genres, including Pearl Jam, Nine Inch Nails, The Cure, Kid Rock, Calvin Harris, and Macklemore. Attendees have the option to camp on festival grounds for the weekend or they can stay at a nearby hotel. There are also options for tickets to either purchase weekend-long passes or a single day ticket.
Mirlton Festival
Date: November 9
This festival celebrates its 24th year this November at the Brickyard. The Mirliton Festival features music, art, and food in celebration of the Bywater area's rich culture. The Bywater Neighborhood Association puts on the event each year to show their pride in their home. The day long festival is a perfect event to bring your family to, with a variety of foods and arts.
All of these events are quickly and easily accessible from the French Quarter and Downtown New Orleans. Due to the large crowd sizes and safety concerns, using a car service for transportation to and from these events is a smart option. We are happy to provide you with transportation to any of these festivals or any other upcoming events in New Orleans.
Oak Street Po-Boy Festival
Date: November 24
This single day food festival celebrates a local food favorite and gives local restaurants a chance to show of their best po-boys by winning awards in different categories. Attendees will have an abundance of flavorful creations to try out as they enjoy live music in the historic Carrollton neighborhood. Through the day-long event, people in attendance will also be able to visit the many shops along Oak Street.
photo credit: GlowJangles via photopin cc