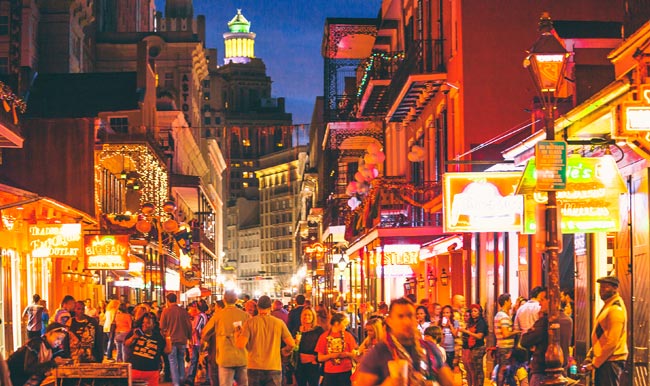 With so much sightseeing to offer – see New Orleans with a professional
The number of tourist attractions in the historic city of New Orleans is vast. From historic restaurants to our massive and impressive graveyards, there is something for everyone. Our New Orleans sightseeing specialists will guide you through selecting the best tour for you and your guests based upon your unique interests. We can follow your itinerary or build one for you that allows you to visit all your chosen sightseeing destinations in New Orleans.
When planning a trip to New Orleans, you can rely on our professionals to hit all the hot spots. We are ready to make your New Orleans sightseeing tour an incredible and fun adventure that you will cherish for a lifetime.
We'll Show You Around
There is nothing better than a one-of-a-kind, custom-tailored adventure in New Orleans, complete with your very own professional tour guide/chauffeur. Customize your time in New Orleans with our unique and exciting sightseeing tours.
Carey New Orleans offers you the flexibility and convenience of choosing between tried-and-tested routes that take you all around the city in a day. We can also tailor your sightseeing trip to your particular specifications. Our goal is always to exceed your expectations and show you our city in the lap of luxury.
Travel in Style
One thing you can expect is a tour of our city in style and comfort while seeing everything that you desire in New Orleans. Unlike other public tours, your chauffeur will be happy to make as many stops as you would like add a location or delete a location. It's your tour.
Our Fleet
Whether you are a party of two or part of a larger group, our vehicles include luxury sedans, limousines, vans, mini-buses, SUV's and party-buses. We'll help you select the right vehicle for exploring museums, checking out filming locations from popular TV shows, or indulging in the best shopping around. Whatever it is you want to see, Carey New Orleans will create and deliver a perfect sightseeing itinerary.
Give us a call to discuss your sightseeing tour and we will be happy to send you our recommendations.