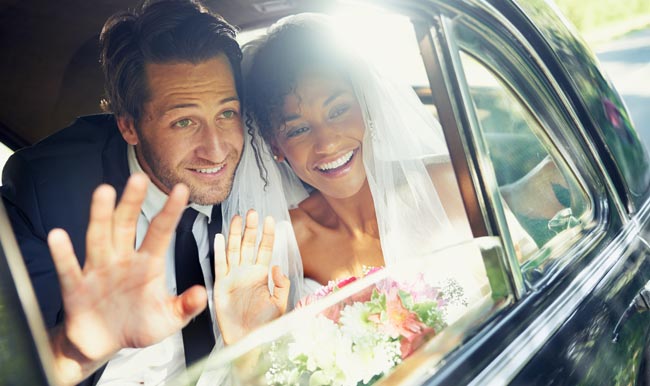 Weddings are one of the most special occasions in life. We've been providing luxury transportation for weddings since 1994 and we set the bar on excellence for this major lifetime event.
We take the time to listen to your plans, expectations and details for your big day. We want your experience to be precious, memorable and unique. We've handled well over 10,000 weddings giving us the experience of knowing and having relationships with many churches, wedding venues and reception locations. Use our experience to plan out the details of your wedding.
Our professional chauffeurs and reservation staff take the steps needed to help you enjoy one of the most important and special days of your life without worry.
We Make Weddings Memorable
Your transportation experience should be romantic, fun, and unforgettable as with every aspect of your special day! We will provide a peaceful, charming, and elegant journey to and from the ceremony, reception, and much more. We strive to make sure that your wedding transportation is the most magical and luxurious experience possible. Visit our office and speak with one of our professional wedding planners to discuss all the details of your big day.
We know that your wedding is a day of celebration for you and your partner! Carey New Orleans is all about helping you make great choices, providing impeccable service with an entire team working behind the scenes to make your big day unforgettable.
Special Guests
While it's your special day, you will be surrounded by special people such as your parents, grandparents and other relatives coming from out of town. Consider providing transportation for those who need it. Don't forget your bridal party. Our mini-buses are perfect for keeping everyone together and safe. We Deliver a Magical Experience.
Our Fleet
Carey New Orleans operate a diverse fleet of vehicles to accommodate celebrations of all sizes. Our fleet includes a wide array of luxury vehicles, like stretch limos, party buses, stretched SUV limos, sedans, and luxury SUVs. We will help you choose the perfect vehicle to carry you and your wedding party in style and comfort with all the features and amenities you deserve on your big day.
Make your wedding day everything you dreamed it would be with Carey New Orleans!